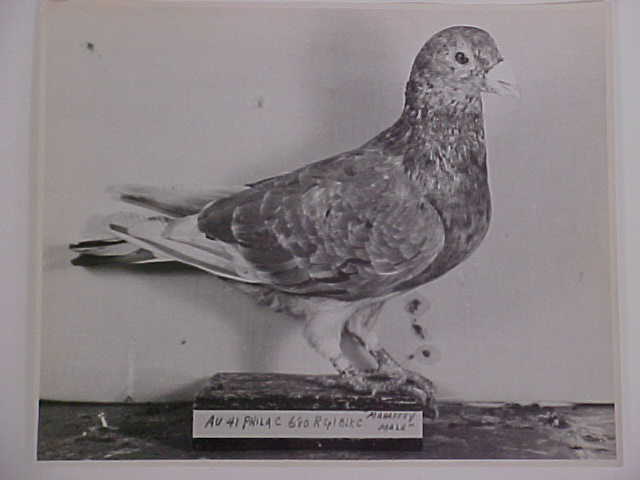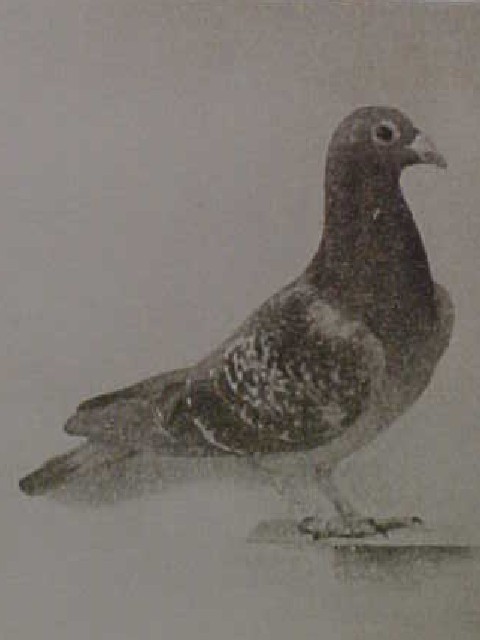 Pictured above on the left is AU 41 Philadelphia 680 Red Splash Cock MaHaffey Male
Pictured above on the right is a famous Bastin male "The Limoges Winner"
Have you ever wondered how you could breed a pigeon that could handle the distance? Well, there is no more wondering. My name is Sal Carsia Jr., founder and owner of The American Home of Bastins. I have been breeding and racing pigeons for the past 55 years. While most people would call this a hobby-I call it a passion! Throughout those years I have experimented with many bloodlines, only to conclude that the Bastin bloodlines are the greatest.
My bloodlines hail from one of the greatest pigeon fanciers of all times, in my opinion, Lucien Bastin of Belgium. Lucien Bastin was a pioneer in the pigeon empire dating from 1890-1933. Still, after his death many others have followed in his footsteps. They are as follows: L. F. Curtis from Boston, Mass., the original importer of Bastins, John Mahaffey from Philadelphia, PA., Earl Henderer from Delaware, Bob Huddy from Boston, Mass., John Klagett from Baltimore, MD. and Captain Tom Keyes from Baltimore, MD. I call these men the "Best of the Best Bastin Breeders", because they were and some still are top breeders and flyers of Bastins.
My loft houses one of the foremost and authentic Bastin colonies in existence. All of my Bastins are from the great, late, pigeon fancier, Captain Tom Keyes. My pigeons are bred with bloodlines that will enable them to surpass any other breeds in endurance and competitions. The American Home of Bastins boasts of champions that will win races from 100 miles to the longest concourse. Not only are they winners of races, but they are also winners in the show pen.
The American Home of Bastins is the "fountain head" where many fanciers have secured their finest stock birds. Pigeons given to me from Captain Tom Keyes, have been bred from his famous 38-mcca 6531 Black Check Pied cock (Lucien). This cock has been proclaimed by Lewis F. Curtis to be the "greatest Bastin producer of all time". I also have a champion from the son of the great 38-wsd 488 Blue Check Pied cock. In Tom Keyes' opinion, this is to be the best son of the Paint Pot Hen which is from the great 43-1725 Bronze Pied cock. The last two children from 43-1725, produced by me, were 865 and 866 Black Check hen and cock. Tom Keyes had a famous "30" pair. I produced grandchildren from them, in which Tom Keyes stated that this pair bred winners from 100 to 600 miles for 9 consecutive years. The list goes on and on. The 8 pair that I acquired from Tom Keyes are all related and have left their mark. Hundreds and hundreds of fanciers have my Bastins right here in North America.
For further details about my Bastins, strategies, and techniques for breeding and flying, please contact me. I will be glad to discuss any and all questions that you might have concerning these fine birds. Please take the time to view the original pictures, more pictures from my loft, and even more pictures from my loft.
Our favorite links:
PetlifeOnline.co.uk - racing pigeon products from Harkers, specialists in Pigeon care.
Discount-Pet-Superstore.com - Discount Pet Super Store Buy PetSafe Wireless Dog Fence, Dog Doors, Dog Crates, PetSafe Electric Dog Fences, Pet Containment Fencing, and Discount Pet Supplies.
Go to Top