Sal Carsia holding AU-05-HFC-614 Black Check Splash Cock Sire "2716" Black Check Splash Cock Dam "2717", Black Check Splash Hen. This is a brother and sister mating. Both are grand children of "3065", my foundation Cock.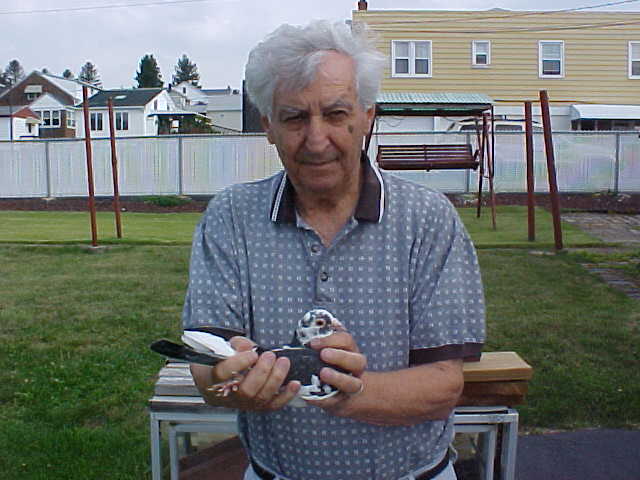 Sal is holding AU-05-HFC-628 Bronze Splash Hen, Sire AU-90-HFC-3065 Black Check Splash Cock, my foundation cock bird. Dam "2679" Black Check Hen sired my good AU-87-HFC-2857 Black Check Cock.
This is the best family of Bastins in America. I have been breeding the Bastin family for 60 years.
Many fanciers claim the Chocolates were Lucian Bastin's favorite pigeons, but in a letter to Mr. Wilding of England, Mr. Bastin wrote that the Pied Family was his favorite. I have a great respect for the Pied Family, and as you know, they are among my favorites.
One must remember that the Lucian Bastin's were the greatest strain ever to come out of Belgium. The greatest pigeon ever to come out of Belgium was the Paint Pot Hen Black Check Splash (1129604). This was told to the GI's in 1945 by the Aces of Belgium. The GI's came back home and relayed that message to Lew Curtis
My Bastins are in 48 states and several countries. The Paint Pot Hen bloodline has produced over 1000 winners.
James Kownacki
(724) 261-8690
E-mail: america2@americanpigeonracing.com